LATEST DOLLY NEWS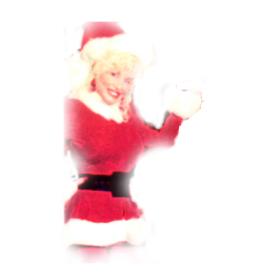 Dollywood "Dresses-Up" For Christmas
Dollywood's annual Smoky Mountain Christmas Festival is currently taking place. Highlights of this year's run include "Tinker: The Talking Christmas Tree." Tinker, who's address is in Dreamland Forest, will talk and interact with your children in America's LARGEST Tree House. Dreamland Forest, itself, is also transformed into a Christmas Fantasyland for all ages to enjoy. Also, each night on the Rivertown Lake, enjoy "Carol of the Trees."

And, as the main attraction at this year's festival, Dolly Parton will perform three Benefit Concerts on the park. The shows will take place December 15 (7 P.M.) and December 16 (2 P.M. & 7 P.M.). All proceed's benefit the Dollywood Foundation, to improve the education of America's youth. Dolly will perform several traditional Christmas tunes, Parton-penned originals, and some of the country hits that made her famous.
Dollywood's Smoky Mountain Christmas runs November 9-December 30. Consult the park's website for more details.
"The Grass Is Blue" Is A Winner!
Congratulations Dolly! Dolly's wonderful "The Grass Is Blue" won ALBUM OF THE YEAR at the recent Bluegrass Music Awards in Louisville, KY.
THESE NEWS PAGES WILL BE UPDATED REGULARLY. IF THERE IS ANY CONFIRMED DOLLY-RELATED NEWS NOT MENTIONED HERE, FEEL FREE TO CONTACT ME AT THEDOLLYPLACE@HOTMAIL.COM. THANK YOU.